Purchase the Songs by check
To Purchase the Psalms Peace Player using a check please call:
517 703 4088  Call to Order.
Payment information:
Make check for $143.00 to: Kelly Landis
(this price includes shipping - within the continental United States - and Sales Tax)
Mail check to: 
Psalms Peace
P O Box 466
Ovid, MI 48866
Psalm's Player specifications: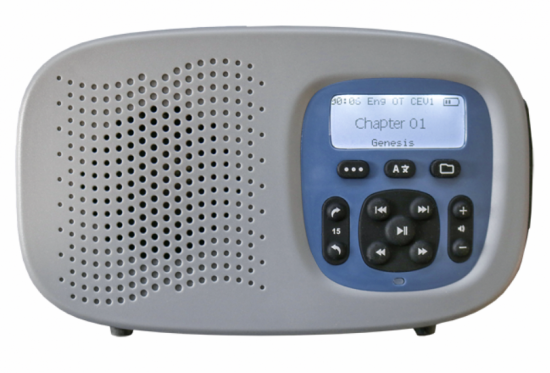 Learn to sing all 150 chapters of the Psalms word for word (KJV). They are loaded into this device with voluminous speakers that fill the whole house.  It's powered by either solar or USB. The charge lasts 60 hours and you can charge it 1000 times. There's 17 hours of soothing music. It also includes an audio version of the entire New Testament, Psalms and Proverbs. Find the ancient hymns awakened here.
(Note: Price includes Shipping and Sales tax.)
Specifications:
- Speaker: 10W
- Onboard NAND memory: 8GB 
- Solar Panel: 1.4W ETFE 
- Battery: 18.72W, 3.6V, 5200mA, Li-Ion 18650 (2600mA * 3.6V * 2 cells with 1000 charge cycles) 
- 3x 50 lumen LED (0.5W, 5mm, 6000-7000K) (Kulumi LED) 
- Mono color 1.6" LCD screen with backlight 
- 3 indicator LEDs to indicate charge status (Red = Low, Orange = Charging, Green = Fully Charged) 
- 1x micro USB jack, 2x 3.5mm headphone jack, 1x External Micro SD slot 
- FM receiver with internal antenna 
- Battery charge management with overcharge and discharge protection  
- Weight: 12.4 oz
- Size: H 3.5", W 6", D 1.75"
- Charging Time: USB: 4-6 hrs; Solar: 24 hrs in direct sunlight
- Playtime on full battery charge: approx. 60 hrs.